The reason is simple. We're a Community.
A joyful place for folks of all ages – you, your friends, and your family.
The Greens at St. Johns is a new and uniquely designed community. We offer unmatched hospitality and compassionate care with assisted living and memory care services. With a variety of accommodations, we are sure to support all of your loved ones' needs. We invite you to visit our community, take a tour and speak with our caring and friendly staff.
Assisted Living means giving nothing up and regaining a renewed sense of purpose driven living, independence and privacy, compassionate care within your own apartment home and a dignified and meaningful lifestyle. We offer a 24-hour dedicated and caring team that is prepared to meet your personalized needs and wants. You will be treated in a way that is dignified and feel great about the time you will regain to pursue your interests. With a robust calendar of activities and events, a warm community of neighbors to engage with and the ability pursue personal interests you can make every day what you want it to be.
At our community, we look forward to creating a bond and friendship with each resident, their loved ones, and other healthcare partners to craft a program that benefits them as individuals. SPARK™, our unique and award-winning lifestyle approach, is our signature. A SPARK™ lifestyle means residents are encouraged to do what they are able, historical knowledge is celebrated and acknowledged and new abilities are recognized and utilized. If you are seeking a positive approach where residents are doing more than you would expect, where residents find a sense of belonging and meaning, and where loved ones are happy to visit, then you've found the right place!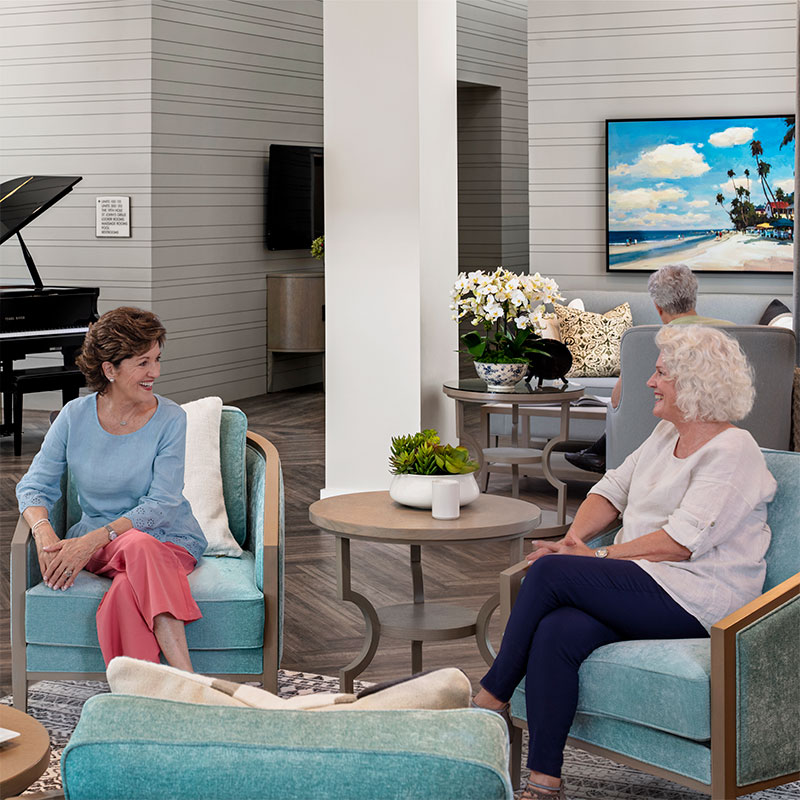 Award-winning SPARK™ Program with methods to provide meaningful social roles and purposeful activities
Chef-prepared seasonal menus with fresh ingredients
Dining within our restaurant
Light maintenance and scheduled housekeeping services
Purpose-driven, life-enriching programs tailored to a variety of interests
Coordinated transportation to shopping, events, restaurants, and cultural activities
Wellness programs to enhance mind, body, and spirit
Beautifully landscaped grounds and tastefully designed living spaces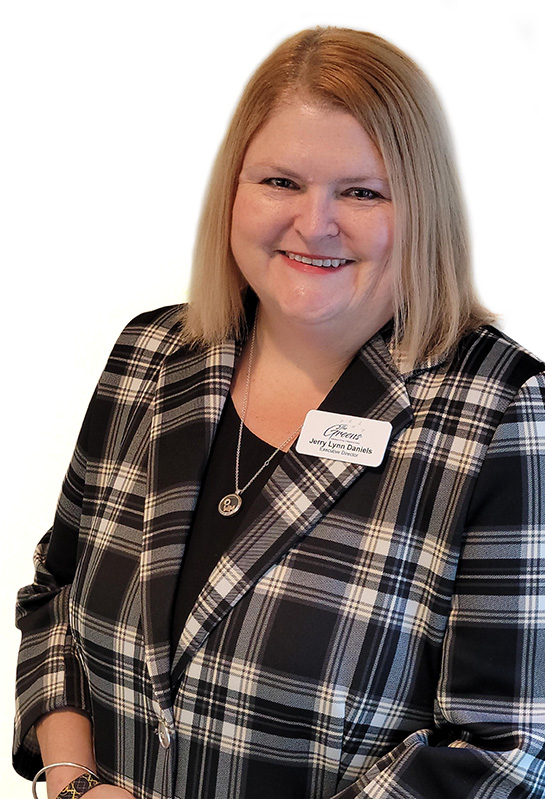 Please meet our Executive Director, Jerry Lynn Daniels. Jerry Lynn has almost 25 years of experience and an evident passion for Senior Living. Over the years, she has served in various roles such as Executive Director, Director of Health & Wellness, Regional Director of Resident Programs, Memory Care Director, Activity Director, Social Service Director, Staff Educator and Admissions Coordinator. She has work in assisted living, skilled nursing, independent living, and memory care as well as in communities with Extended Congregate Care (ECC) and Limited Nursing Service (LNS) licenses. She also has experience in the Continuing Care Retirement Community (CCRC) setting.
Jerry Lynn loves learning and teaching. She has a Bachelor of Science in Interdisciplinary Studies (Business & Education) as well as a Masters in Adult Education & Training. She is a Certified Dementia Practitioner (CDP), a Certified Alzheimer's Disease and Dementia Care Trainer (CDDCT) and a Certified Montessori Dementia Care Professional (CMDCP). She is Certified to Administer and Score the Montreal Cognitive Assessment (MoCA) and has experience conducting Second Wind Dream's Virtual Dementia Tour (VDT). She is State of Florida Elder Affairs Core Certified and is a State of Florida Elder Affairs approved Alzheimer's and Other Related Disorder Training Provider. She has also Completed the Argentum Senior Living Sales Counselor Program and is a CDC trained Infection Preventionist.